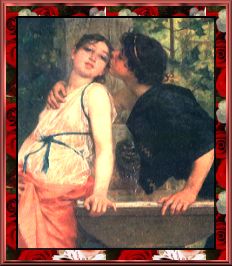 "Know that you are locked in my heart
and etched in my soul...
You are always here with me
lulled in my thoughts...
I want you so deeply I spend my day
making love to you in my mind..."
April 29, 1999
I LOVE THE WAY 

YOU LOVE ME

Boyzone

written by Victoria Shaw 

and Chuck Cannon

Intro: A  F#m  Bm  E 



A

I like the feel of your name on my lips

       F#m

And I like the sound of your sweet gentle kiss

       Bm      

The way that your fingers run through my hair

       E

And how your scent lingers even when you're not there

       A

And I like the way your eyes dance when you laugh

       F#m

And how you enjoy your two-hour bath

       Bm 

And how you've convinced me to dance in the rain

        E

With everyone watching like we were insane



CHORUS:



       A Bm                             A

But I    love the way you love me

D                        E  

Strong and wild, slow and easy

A                    D

Heart and soul so completely

E                           A

I love the way you love me

And I like to imitate ol' Jerry Lee

And you roll your eyes when I'm slightly off key

And I like the innocent way that you cry

At sappy old movies you've seen hundreds of times

CHORUS

Bm                      E

And I could list a million things

A

I love to like about you

      D                             A 

But they could all come down to one reason

Bm                          E

I could never live without you..

CHORUS TO FADE 


This song is lovingly dedicated to
Robert Danielsson
"because I really love him"

love,
Elin




The guitar chord interpretation is done by Jamesness.



The background and image
on this page are designed by



If you're going to use them,
have a link back to this site.


Please read the Copyright Notice.