If there would be anything that would give me
immense bliss this blessed season of the Lord,
it would be spending Christmas with you.
And there's nothing more precious than
our First Christmas together.

Blessed as I am, blessed is my family
who welcomed you with much tenderness
and warmth. I could never be more proud
than having you in my life because of how you touch
everyone's hearts. Amazing as you are, they said you
resembled my lost, beloved father...in every interests
you have, photography, music, technical work...
It even seemed eerie to see you move around and
express your gestures like he once did. If my
mother would have been here on earth, she would
also welcome you with eager arms and affection.

Thank you for the marvellous joy you had given me
and my family this time. The children remember
their "Tito James" always and ever.

May this First Christmas together anchor the next
Christmases of the rest of our lives as one.
I have no other wish but that every
kind of celebration be spent
with you by my side...

"I hope you could dry my tears every night ...
I'm really missing you..."

"Just know that you have my deepest love...
Keep that in mind...Keep the thoughts of us being
together forever soon in your mind...
It will help keep your tears away..."

December, 1999

"Tsunami"
by Southern All Stars
being played at your pleasure.

our romance part 2

awards

musical digital postcard
It is a great pleasure to have you as a GUEST and a FRIEND, so
PLEASE SIGN our GUESTBOOK
We would love to hear your thoughts, feelings and views
about this site, distant relationships, true love, internet romance
and most especially, your "Cheers!" and "Best Wishes!"
- James and Ness -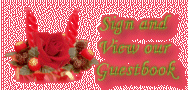 in case the above guestbook doesn't work
please sign here...
Please send your E-mails at jamesness@jamesness.com

The background and images
on this page are designed by



If you're going to use them,
have a link back to this site


I place this button where I cried...
My special button.
Pls.don't take without permission...
This page hosted by JAMESNESS